Farm colouring sheets & activities for kids
Posted on
Farm colouring sheets & activity pages for kids
My kids loved colouring when they were small, so whenever the weather wasn't great outside or we had a bit of time we would get out the colouring pencil tin and I'd find some pictures for them to colour.  It's probably the reason my kitchen table is now an assortment of colours but they had fun!
I wanted to have something on the website which the children could enjoy and could be used over and over again, so I've added these new farm scene colouring sheets, created just for us.  They are free to download and print out for your little ones to colour whenever you like.
We'd love to see the finished results or pictures of the children colouring so please don't forget to send a picture or tag us #fieldsfarmyardsandfamilies.
We keep adding new sheets to this page so don't forget to keep having a look and bookmark it.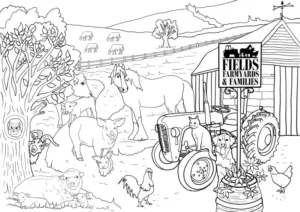 The vintage tractor farm colouring sheet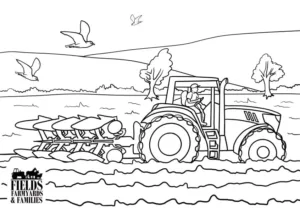 The tractor ploughing colouring sheet
Showtime activity sheet
How many of these animals and items can you find?
This eye spy activity sheet that can be used at a country show,  or simply on a walk or car journey.
Once all the animals and items have been found, it can be used as a colouring sheet.
Spring lambs colouring sheet
Happy Easter Colouring sheet

Sheep Breeds Wordsearch Activity sheet
Can you find all the sheep breeds hidden in our wordsearch?  There are 10 to find.
 Once the kids have found all the breeds, why not colour the lovely sheep illustrations!
Copyright reserved. For personal and non commercial use only.