10 favourite children's farm books
Posted on
Exploring the Countryside:  10 of my Favourite Children's Farm Books
The country landscapes, animals and tractors, have inspired countless stories that transport children into the world of farming. From rolling hills to charming farm animals, the countryside serves as the backdrop for delightful children's farm books that entertain, educate, and inspire young readers.
In this blog, I'd like to share 10 of my favourite children's farm books (in no particular order), that capture the magic of rural life for young minds.
"Goodnight Tractor" by Michelle Robinson: "Goodnight Tractor" is a cozy bedtime story that takes readers through the farm's nighttime routine, from tucking in animals to turning off lights. It's a perfect way to wind down after an adventurous day on the farm.
"Landy" Series by Veronica Lamond: Follow the adventures of Landy, a blue tractor, and his farmyard friends. Through Landy's escapades, young readers learn about the roles of various farm vehicles and the importance of teamwork.
 "Tractor Ted" Series by Alexandra Heard: The "Tractor Ted"
series offers a collection of educational books that celebrate life on a farm. With real-life photos and engaging narratives, these books introduce young readers to tractors, farm animals, and the rhythm of rural life.
 "Floss" by Kim Lewis: Join the adorable sheepdog Floss as she embarks on her first year of work on the farm. This beautifully illustrated story captures the challenges and joys of farm life through the eyes of a loyal dog.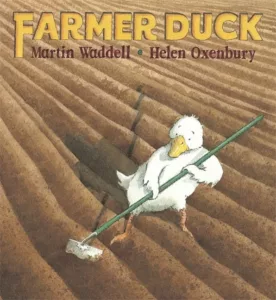 "Farmer Duck" by Martin Waddell and Helen Oxenbury: In this heartwarming tale, a hardworking duck is unfairly treated by a lazy farmer. With the help of the other farm animals, the duck's fortunes take a delightful turn.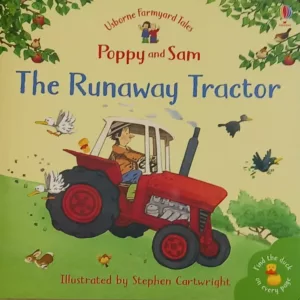 "The Farmyard Tales" Series by Heather Amery: Follow the fun-filled stories of Poppy and Sam as they help out on Apple Tree Farm. These interactive tales and colourful illustrations bring the farm to life for young readers. There are so many great little story books in this series, that it was too hard to choose, so I haven't picked out a particular one. Don't forget to look out for the duck hiding on the pages!
"Farmer Clegg's Night Out" by Peter Bentley:  We were introduced to this book, when it was gifted at Christmas, by the nursery we attended (a few years back now) and it became a firm favourite.  It's definitely a story to be read out loud!  Join Farmer Clegg on a delightful nighttime adventure in this humorous story. As he visits his animal friends, young readers get a glimpse of farm life after dark.
"What the Ladybird Heard" by Julia Donaldson: I'm a big fan, as so many people are, of the Julia Donaldson books, so it's no wonder that I have one sneaking in to my top 10 favourites.  In this captivating story, the ladybird hatches a plan to outsmart two cunning thieves. The rhythmic and rhyming text introduces children to farm animals and their unique sounds
"The Sheep-Pig" by Dick King-Smith:  Follow the story of Babe, the sheep-pig, as he defies expectations and becomes a champion sheep-herder. This heartwarming tale celebrates the bonds between animals and humans.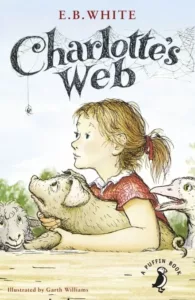 "Charlotte's Web" by E.B. White:  This enduring classic, takes us on a touching journey into the friendship between Wilbur the pig and Charlotte the spider. Experience a story that teaches us about loyalty, compassion, and the magic of connection. This heartwarming tale of friendship between a pig named Wilbur and a clever spider named Charlotte has enchanted readers worldwide.
The rich countryside has provided ample inspiration for children's farm books that spark imagination, foster a connection to nature, and impart valuable life lessons. Whether it's the heartwarming tales of animals like "The Sheep-Pig" and "Farmer Duck," the educational insights of "Tractor Ted" and "Landy," or the delightful farm adventures of "Goodnight Tractor" and "Floss," these children's farm books are sure to captivate young readers, transporting them to the charming world of farms and fields. So, embrace the warmth of these children's farm books and embark on a delightful literary journey through the rustic landscapes of the imagination.
Please note they cover a variety of age ranges and reading levels.